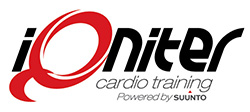 Sonic Fitness is the North American Distributor of the iQniter Cardio Training System, powered by Suunto.
iQniter Cardio Training is a unique and easy-to-use system for wirelessly tracking the heart rates of multiple participants in an exercise activity. The iQniter Cardio Training software wirelessly tracks the heart rates of participants wearing the Suunto Dual Comfort sensor belt. This data can be viewed in real time, saved, and analysed by an instructor or trainer.
The iQniter Cardio Training system is perfect for health clubs, gyms, indoor cycling, group training activities, crossfit, kettlebells and more!